A condominium unit title deed is a certificate of true ownership. A condominium (apartment) deed is the official document showing ownership of personal property according to the plan of the condominium and the percentage (according to the exact size of the unit) of joint-ownership in the common property of the condominium (percetage of ownership in land, gardens, halls, exterior walls, roof, etc). The condominium unit title deed is the ownership document issued and administrated by the competent official at the Land Department. The apartment title deed contains the following main particulars: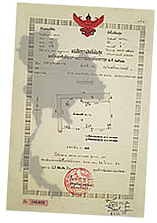 Position of the land and area of the land of the condominium.
Location, area and plan of the apartment showing the width, length and height.
Ratio of ownership of common property.
Name and surname of the person having the ownership of the apartment.
Index for the registration of rights and juristic acts.
Signature of the Competent Official.
Position seal of the Competent Official.
Number of title deed copies
The condominium apartment unit title deed is made in duplicate, one copy is for the person having the ownership of the apartment while the other copy shall be retained at the land office (the office of the competent official). Below a general translation from Thai to English.
(Ao. Sor. 2)

 

Land Location

Title Deed Number 111
Tambon __________
Amphur __________
Provice Bangkok, Phuket, Pattaya, Hua Hin
Area 1 rai 1 ngan x square yard

 

Condominium Location

Condominium Number xx/0019
Floor xx
Building Number 1
Building Name NAME Condominium
Condominium Register Number XX/25XX

Condominium Title

Made by the Power of Condominium Act B.E. 2522

For _____________ Co., Ltd Nationality Thai Address ____ Moo -
Road __________ (___________, __ Floor, Tower _, Room _____
Soi - Tambon _____________ Amphur/Khet _______________ Province ____________

Condominium Map

Scale 1:300
Area xxx.xx square meter Height xx meter
The ratio of the owner of capital asset is xx.x parts out of xxxx
Made on date month year

name
Land Department Officer

Signature
Mr. name



Signature
xxxxxx Map Drawer date
name Inspector
name Director date
House/ condominium resident and address registration book
Usually the house or condominium apartment house book in Thailand has a dark blue color. Only if the foreigner is the freehold owner of a condominium apartment and he meets the requirements for application a blue book can be exchanged for a a yellow house book (specifically for foreigners). Below the condominium apartment housebook with a yellow color.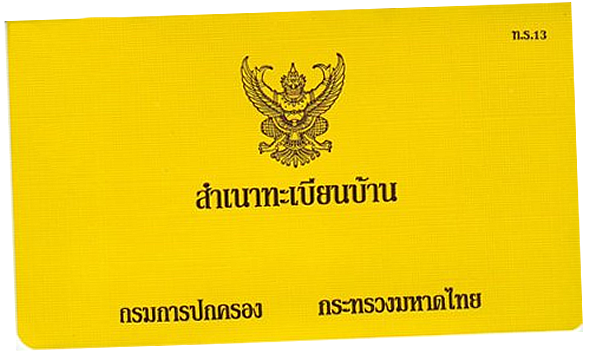 Related: