Nominee holdings in the gun
Revelations by the Ombudsman that one third of land in Thailand is owned by foreigners, some of it illegally, has raised concerns about whether authorities are doing enough to police land ownership laws.
The figure is based on research by Assoc Prof Piyanut Potawanit, a law lecturer at the National Institute of Development Administration. She explains ways around the problem in an interview with Bangkok Post reporter Mongkol Bangprapa. Here are the excerpts: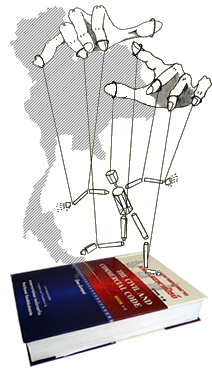 How did you start the research?
The idea came from the Ombudsman's interest in the problem as well as my own encounter with a foreign firm's attempt to buy land here.
I was a legal adviser to this company which was embarking on a land-related business.
I advised them to abandon the plan, as it was illegal, but the company argued others had done the same so they wanted to go ahead.
How did you plan and work on the research?
We used every method, from sampling target companies to interviewing former landlords and employees working with foreigners who bought land.
Many employees told me the "real" land owners in nominee cases, in which Thais own land on behalf of others, are farang. My team spent one year on the research.
What is your response to the finding that one third of the nation's land (about 100 rai) is now owned by foreigners?
We've not known the real figures because they are well hidden, especially given the complicated shareholding of some companies. Land owners in these companies appear to be Thai, but a closer inspection reveals that's not always true. We believe there are even more cases of land ownership by foreigners than our findings suggest.
These foreigners use their Thai subordinates and even their Thai wives as nominees to acquire land for businesses in housing development and farming.
Are the land purchases restricted only to scenic areas (such as Phuket)?
Some Malaysian businessmen have tried to buy land in Isan to plant rubber trees. In the North, some have attempted to buy land to grow coffee.
How long has the problem existed?
It started a long time ago when our economy was down and we sought foreign investment without careful consideration.
Foreigner land purchases later peaked during the bubble economy from 1995 to 1997, after foreigners spotted ways to buy land through Thai nominee companies.
We have laws to handle these violations, but they are not enforced. We also lack a central agency which keeps information regarding land acquisitions.
When state agencies have limited knowledge, they cannot check for any irregularities, including changes in the shareholding of the nominee companies.
Have you noticed any change since your research was unveiled to the public?
Deputy Prime Minister Yongyuth Wichaidit promised to bring forward a bill which would create a central agency capable of acting against wrongdoers as well as a channel through which people can lodge complaints. It would impose jail terms of between two and 20 years on foreigners and their Thai nominees, and result in the seizure of their land, assets and other benefits gained from development. Before the law is enforced, however, we will give nominees and foreigners a chance to avoid punishment by acting as state witnesses or, in the case of foreigners, returning the land.
Published: Bangkokpost 20/03/2012
Related: