Laws governing leasehold, lease and rentals of real estate and condos
Rent lease of immovable property laws
The legal agreement whereby rent is paid in order to use another man's real estate property (residential or commercial property) in Thailand is governed by the lease agreement between the parties and the Civil and Commercial Code. The laws governing hire of property in Thailand is applied in the same manner if the hirer is a Thai or foreign national. The primary source of laws governing hire of property is the Civil and Commercial Code. The general principles of lease (as a contract) is governed by Title VI Juristic Acts and Book II Obligations and more specifically the Chapter Hire of Property, but the Supreme Court of Thailand gives rules for the exact interpretation of words and sections of the Civil and Commercial Code and therefore lease in Thailand cannot be fully understood without also taking into account specific Supreme Court judgement. You can read the Civil Code but won't be able to fully understand it.
What is lease or leasehold in Thailand
The main drawback of Thai property law is that leasehold in Thailand is not a real property right (governed by book IV Property) but a personal contract right of the lessee (governed by book III specific contracts). The lessee cannot buy or sell his lease unless the owner is willing to cooperate, the lessee cannot mortgage his lease nor use it as collateral. Lease in Thailand is in essence a normal property rental contract (a tenancy) governed by the section hire of property in the Civil and Commercial Code. A lease in Thailand (as it is in essence a normal tenancy) is a personal right of the lessee and attached to the lessee as the contract party therefore according to the Thailand Supreme Court terminated upon the lessee's death.
The Chapter Rent of Property (lease in the Civil and Commercial Code)
Only in case of specific commercial leases the Thai government created a specific act requiring large investments into Thailand; the Hire of Immovable Property for Commerce and Industry by Foreigners.
The structure that comes close to lease as a real right is a 30 year land lease combined with a right of superficies specifying the rights to own a house on leased land. Note that it is only possible to register a lease over titled property, i.e. condominiums and titled land and buildings on titled land having a land title deed issued by the Land Department confirming right of possession or full freehold ownership read more...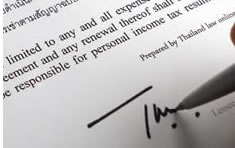 See also